Another new clone in Co Down, Northern Ireland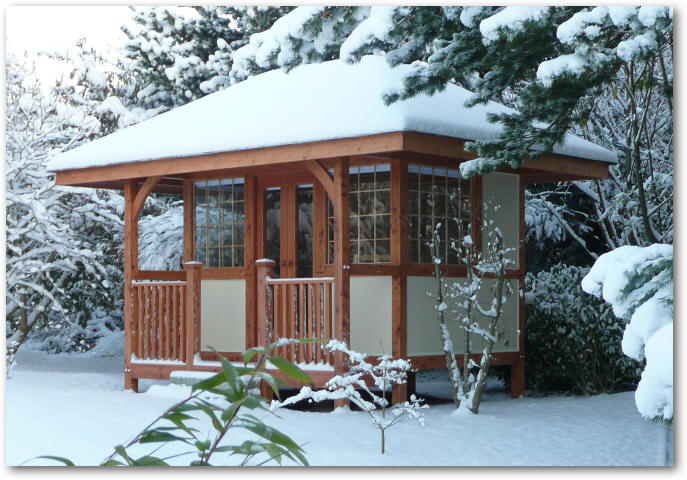 "Hello Chris, you might remember me contacting you a couple of years ago regarding the Tea House Build. Well I went ahead with the project which was completed in three months. ( all my own work ) Did not follow your plans perfectly but I think it worked out reasonably well. All mortise and tenon joints were pegged in the traditional way.




Electricity and water were also installed. Pebble garden and pond with a waterfall have been included although it cannot be seen for the snow and is still being developed. Various size large diameter Bamboo Cane arrived recently and I hope to have fence style structure built this summer and guttering has to be completed as well.




My wife's Sogetsu flower arranging members had a 'Tea Ceremony' to officially open the Tea House. ( see the attached image with her friend Umi in full dress who now lives in Northern Ireland )




With the heavy snow recently my wife took this photograph and I thought you might like to see as it looked rather attractive. We intend to use it for a Christmas card this year.




I kept a photographic record of the entire build and my wife is giving a talk to her local gardening club later this year on this 'Japanese style' part of the garden.




Thank you for giving me the inspiration to attempt this project.




Kind regards




Laurence Kirk ( GI4MMJ )"
Congratulations Laurence - it looks beautiful! Chris