Teahouse Roof
Oak shakes

I originally planned to use machined Red Cedar shingles - the same wood as I was going to use in the construction of the building frame, but changed my mind and decided to use green oak. This meant that I needed to find a source for native oak shakes. I wanted the teahouse rook to look a little like the photograph below which I really like.
After a bit of research I managed to find Coyle Timber Products who are able to supply hand-split oak shakes exactly as I required. My estimation is that I require 15 sqr metres of shakes.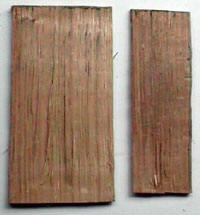 Coyle Timber's Oak Shakes
Another source of oak shakes in the UK is John Brash (Timber Importers) - telephone +44 01427 613858 and lots of information can be found on their web site. I understand they are imported from Germany.
Another company to look at is Shakertown which includes technical drawing of various layout patterns.
Rain Chains (Kusari-Doi)
Rain chains (kusari doi) are very common in Japan and they can often be seen on tea houses and other buildings to be found in gardens. Usually, made of copper they turn a shade of green through the development of verdigris. When it rains, waters cascades from cup to cup making a very pleasant sound.

In the UK, rain chains can be bought from Japanese Garden Supplies who import them from Japan. Be warned, they are not cheap!

I will put one on the front right-hand corner of the teahouse next to the pond.
Click here to go to see the teahouse content index